Beth Clarke, MPA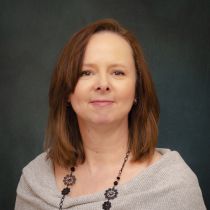 Staff
East Lansing
846 Service Road
Room 117
East Lansing, MI 48824
An efficient and organized professional known for her welcoming and collaborative spirit, Beth Clarke is Radiology's Education Programs Coordinator, overseeing the Radiologist Resident Conference Series and Atis K. Freimanis Visiting Professor Program. A long-time member of Radiology's support staff team, Beth has worked with many faculty across the department in several roles. She continues to interact with everyone across the department as she manages the Radiology website and social media pages. She is our department liaison for fundraising initiatives that support education and programs for our Radiology Healing Gardens.
Beth has a bachelor's degree in Social Work and went on to earn a Master of Public Administration with a non-profit leadership concentration. She has worked for Michigan State University since 2006 and is an enthusiastic fan of MSU football. Beth's goal is to continue to grow Radiology's educational offerings as the department continues to expand our biomedical imaging portfolio.
Beth enjoys spending time with her family, especially her grandchildren, and volunteering in the community; she has volunteered at university events such as the Teddy Bear Picnic, graduation for the College of Osteopathic Medicine, and participating in medical student interviews for the College of Human Medicine.