Ryan Barlow, CHRS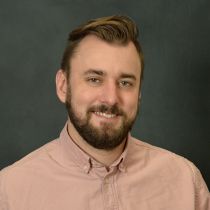 Staff
East Lansing
846 Service Road
Room 184
East Lansing, MI 48824
An engaged, data driven problem-solver with experience in team leadership and collaboration, Ryan Barlow is Radiology's Human Resources Coordinator. He is often a candidate's first contact with the Department of Radiology and continues to help employees and supervisors throughout the talent lifecycle.
Ryan is our subject matter expert for HR topics and acts in consultation with our HR partners in our lead colleges and across campus. He provides administrative support for the department's Reappointment, Promotion, and Tenure Committee and is the primary contact for remote work agreements and position postings. Additionally, Ryan helps with workspace environment needs and acts as Radiology's surplus and recycling ambassador. Ryan's goal is to help the Department of Radiology continue to grow as a community of medical imaging experts.
Ryan is a MSU alum, having earned his Bachelor of Science in Chemistry. Ryan is an accomplished chef, having earned awards in competitions.